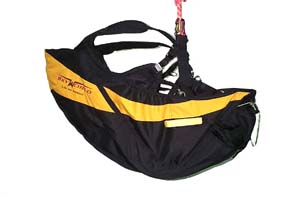 The
Thermal
is a high performance paragliding harness designed for the acomplished pilot.
It can provide a real edge to a pilots skills.
Its flexible materials mean you can walk comfortably and set the harness easily.
While the internal stretching system make it possible to straighten your body fully to reduce wind resistance once flying.
When flying cross country the thermals comfortable design can also greately reduce body fatigue.
The
Thermal
has many adjustable systems and this provides a high level of aerodynamics and in turn increases the LD .
---